On-Site Cylinder Refilling
Bellville Butane Company provides a variety of residential propane delivery options and services to keep your Southeast Texas property, barbecue grill, or recreational vehicle up and running—and that includes premium cylinder refueling services at our office. We can't wait to provide you with the unmatched benefits of propane for your grilling needs, RV hot water power, and more. We are also qualified to recertify expired propane cylinders for an additional five years through a visual inspection.
BECOME A CUSTOMER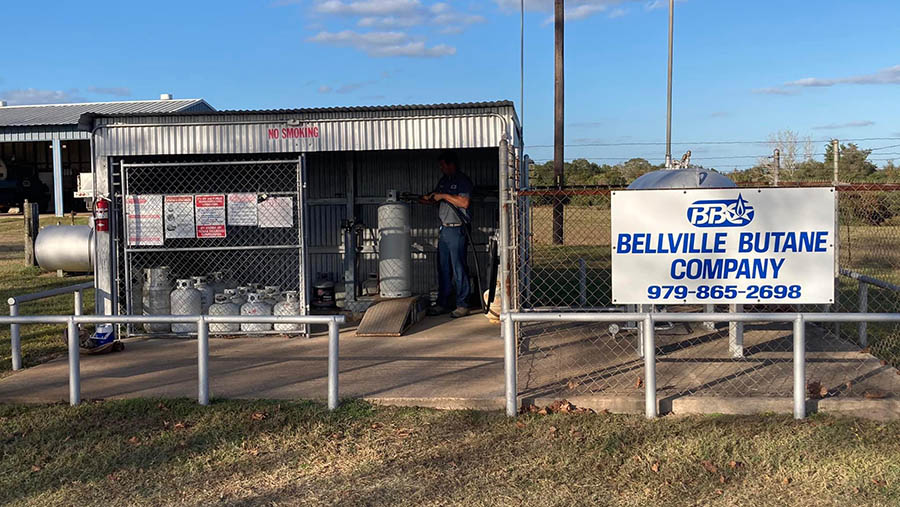 How to Get a Cylinder Refill
Getting a cylinder refill from Bellville Butane Company is simple! First of all, are you looking for a same-day cylinder refill, or an overnight fill?
Same-Day
Step 1: Visit our Bellville or Sealy location with your empty cylinder (details below).
Step 2: We'll refill your cylinder on the spot.
Overnight Fill
Step 1: Call our office to find out how to securely leave your cylinder.
Step 2: Drop off your cylinder at our Bellville location.
Step 3: We'll fill it during the day and you can pick it up the next morning.

Sealy
9428 FM 1094 Rd., Sealy, TX 77474
Monday–Friday: 8:00 a.m. – 12:00 p.m. and 1:00 p.m. – 5:00 p.m.
Saturday: 8:00 a.m. – 12:00 p.m.
Sunday: Closed
Bellville
781 E Hill St., Bellville, TX 77418
Monday–Friday: 7:45 a.m. – 8:00 a.m.
Saturday & Sunday: Closed